The Haddonfield Outdoor Sculpture Trust
The Haddonfield Outdoor Sculpture Trust (HOST), in cooperation with the Borough of Haddonfield, NJ, has created a public/private outdoor art initiative that will populate downtown locations in Haddonfield with rotational, contemporary outdoor sculpture.
The goal, according to local real estate developer and HOST chair, Stuart Harting, is to "transform this walkable, attractive and historically significant borough into a significant center for juried outdoor sculpture in the great tradition of public art."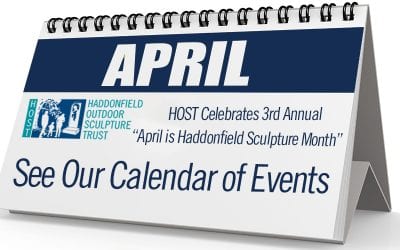 Download the poster and events calendar HERE NOW THRU May 31 - Name Baby Ndotto! Several years ago an orphaned baby elephant was found wandering...
read more
HOST Has a Cool Ice Carving Event with Sculptor Roger Wing
VIRTUALLY VISIT THE "HEART OF HADDONFIELD"
{"id":2,"title":"Haddonfield Heart","default":true,"thumb":"","img":{"src":"https:\/\/haddonfieldsculpture.org\/wp-content\/uploads\/PANO_20200416_141507-2-4000x2000.jpg","width":4000},"hotspots":[{"id":4,"type":"text","title":"Haddonfield Heart","position":{"yaw":0.05901797866584956864244304597377777099609375,"pitch":-0.0441174261311321203038460225798189640045166015625},"popup":{"titleColor":"#000000","titleBgColor":"#ffffff"},"text":"<p>The Heart of Haddonfield is a popular location in Kings Court for selfies, engagement and wedding photographs. This three-dimensional welded diamond laser-cut aluminum sculpture is by M.L. Duffy.\u00a0<\/p>\n<p><a href=\"https:\/\/ccandgworks.com\/host\/sculptures\/low-poly-open-heart\/\"><strong>View Sculpture Information<\/strong><\/a><\/p>"}]}
{"primaryColor":"#ffffff","secondaryColor":"#102c53","autostart":1,"move":1,"zoom":1,"menu":0,"hideMenu":1,"hdesktop":"1-2","htablet":"1-2","hmobile":"1-2","zoomScroll":1,"fullImages":0,"gyro":0}