Chairman's Blog by: Stuart Harting
If you care about sculpture, or simply want to be wowed, you've got to visit Glenstone!
As the Chair and putative "founder" of HOST, I've considered for some time that it might be both worthwhile…and just plain fun…to share my thoughts on our work here in Haddonfield with those who have become interested in and supportive of what we've been doing since 2013.
I was finally motivated to get off the dime and put some thoughts on paper after three of my HOST board colleagues and I had the remarkable experience of visiting the outdoor sculpture park which is part of the Glenstone museum in Potomac, MD.
If you haven't heard or read about it (it's the darling of art aficionados everywhere, it seems), it is a privately created and funded half billion dollar facility that has been created and populated by collectors Mitch and Emily Rales.
It includes a 300+ acre outdoor sculpture park and that is what took me and board members Joe Sikora, Joe Levine, and Michael Willmann to Potomac last month. We were fortunate enough to get a guided tour from Mike's brother, whose firm MGAC, has been the owner's representative over the last seven years as the project unfolded.
One of the many amazing aspects of Glenstone is that is open to the public at no charge! You have to make a reservation and at the moment only the outdoor portion of the project is open, but that, in itself, was more than worth the trip down I-95.
In fact, it was breathtaking….as you might be able to infer from some of the photos that I am including with this post.
The signature piece, from a visual point of view at least, is Jeff Koons 2000 piece titled "Split-Rocker."
The Washington Post described it this way: "At 37 feet high and set atop a domed hill, it is surely the most playful if not wondrous piece of artwork at Glenstone, the world-class private art museum…in Potomac, Md. And yes, "Split-Rocker" is alive. From mid-spring to mid-fall, 24,000 annuals produce maybe a million blossoms to turn the sculpture into a tapestry of nature's modulated hues."
For Emily Rales, the museum's director, "Split-Rocker" also brings together the three essential worlds of Glenstone: art, architecture and garden.
"We always knew this would be a site for a major piece of sculpture because it was at an elevation above everything else. We looked for a long time for a showcase sculpture like this and eliminated a lot of things, and this finally came to us for sale. It was in the possession of a French collector, and we knew immediately when we saw pictures of it that it would be perfect for here, its scale and the way it combines horticulture with art. It brings everything together in a beautiful way."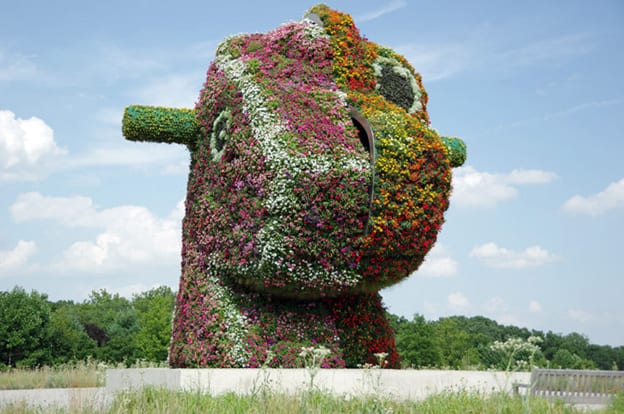 But Glenstone is nothing if not eclectic in its collection…and certainly not without whimsy. Witness this Robert Gober piece from 1986-87, titled "Two Partially Buried Sinks" which is literally what it is—two kitchen sinks half sunk into a hillside.
It is cast iron with white enamel paint and measures 39 x 120 x 72 inches overall.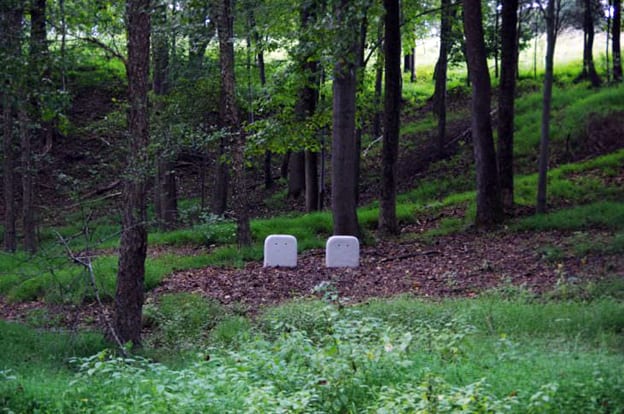 The Rales describe their creation as "a place that seamlessly integrates art, architecture, and nature into a serene and contemplative environment." And it certainly does that, and more.
Our little group found it literally inspiring.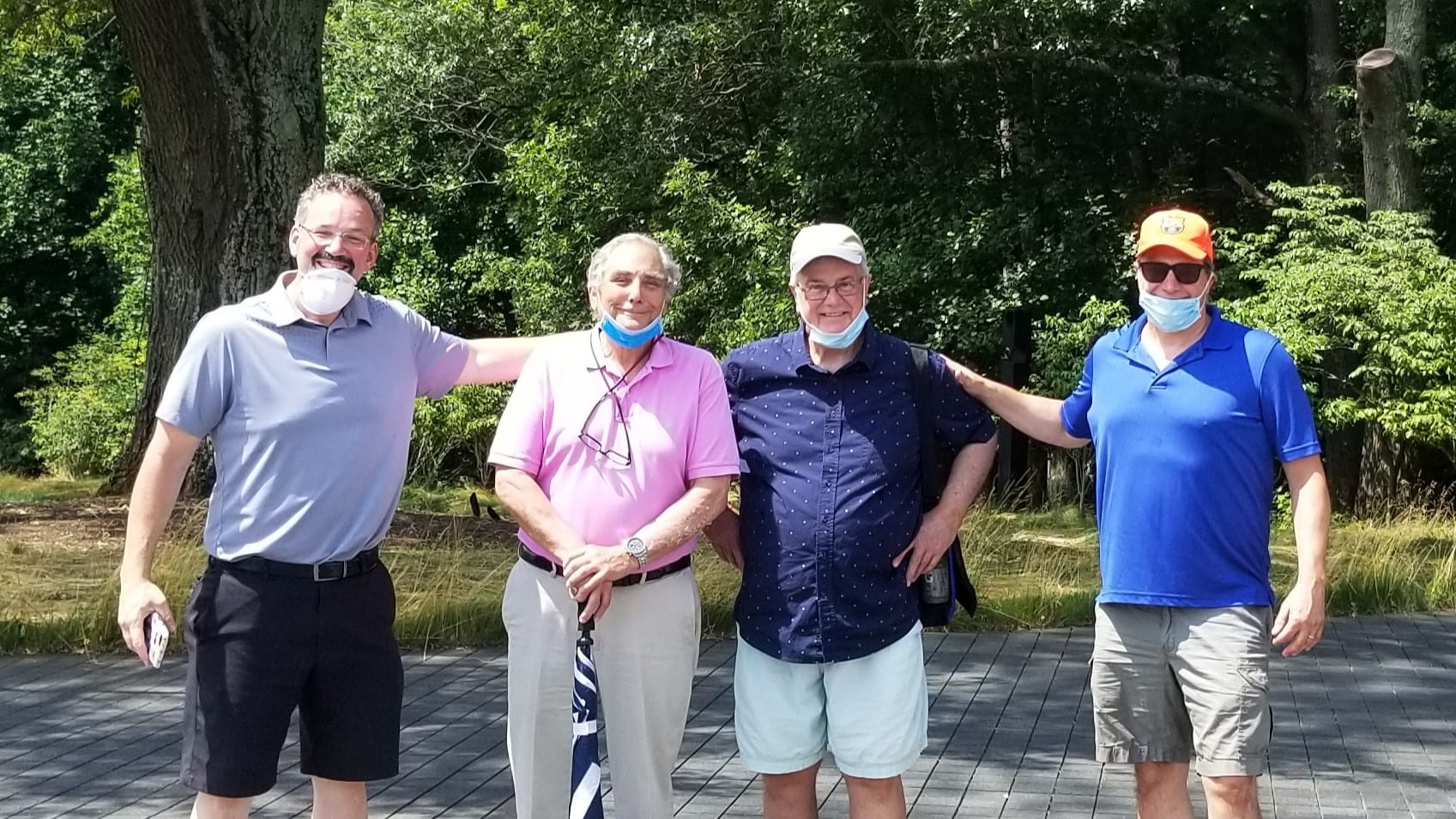 (HOST Board Members: Joe Levine, Stuart Harting, Michael Willmann and Joe Sikora.)
In fact, as the beautifully articulated Glenstone web site explains, the museum and sculpture park "assembles post-World War II artworks of the highest quality that trace the greatest historical shifts in the way we experience and understand art of the 20th and 21st centuries.
"We envision Glenstone not only as a place, but a state of mind created by the energy of architecture, the power of art, and the restorative qualities of nature. At the core of the museum is a collection of…art, a very personal project driven by the pursuit of iconic works that have changed the way we think about the art of our time," say the Rales.
Every piece has its own seductive back story and we were lucky that our guide had accumulated an encyclopedic knowledge during his work as the Rales on-site owner's rep.
By the way, if you're wondering about the name, "Glenstone" derives from two local sources: Glen Road, where the property line begins, and a type of carderock stone indigenous to the area, which is still extracted from several nearby quarries.
The Rales say that they hope that Glenstone "will always be a destination for all who seek meaningful encounters with art, architecture, and nature—for many years to come."
It certainly was all that and more for our group. And it inspired us to expand our horizons as we plot the future for HOST here in Haddonfield.Visit Glenstone!