Friends of HOST
The Haddonfield Outdoor Sculpture Trust appreciates the support of the Haddonfield community, Borough and businesses. We are grateful, not only to them for their support, but to other kind donations given through foundations and organizations outside of our community. These donations are everything from time, monetary value, insight, artists, families and so much more.
Everyone's gracious support helps to transform this walkable, attractive and historic town into a significant center for juried outdoor sculpture, following in the great tradition of thousands of years of public art around the globe.
See our list of supporters below.
We thank you.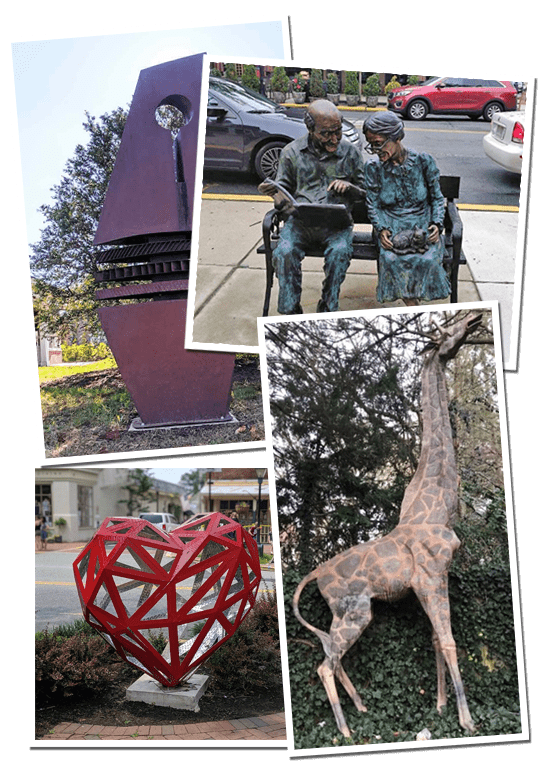 Philadelphia Sculptures
The mission is to promote contemporary sculpture and serve as an advocate for sculptors. Our objective is to expand public awareness of the role and value of sculpture within our culture through exhibitions, public forums, member services, and educational outreach.
Please visit them at: https://philasculptors.org/
Philadelphia Museum of Art
The Philadelphia Museum of Art is an art museum originally chartered in 1876 for the Centennial Exposition in Philadelphia. The main museum building was completed in 1928 on Fairmount, a hill located at the northwest end of the Benjamin Franklin Parkway at Eakins Oval.
Visit them at: https://philamuseum.org/
Rowan College at Burlington County
The Rowan College at Burlington County Sculpture Walk, located on the quad of our Mount Laurel Campus, serves as an exhibition of contemporary sculpture. The works were selected from the college's original sculpture garden that was housed on the Pemberton Campus.
Visit them at: https://www.rcbc.edu/sculptures
Stainrook Foundation
Haddonfield "Friends of HOST"
The Brand Family
The Dunhour Agency
Gelato Dolceria
La Creperie
The Paper Trail
Valentes Italian Specialties
Joe Murphy
Lisa Wolshina
Bob Hochgertel
Zaffron Restaurant
Heritage Winery
Evearts Jewelers
Oriental Pearl Restaurant
Dennis Tully
Blue Sky Power
In Loving Memory of Freda and Elliott Yampell
The Bono Family
Happy Hippo
Debonair Dog
The Bistro
Almand Bros Concrete
Borough of Haddonfield
Haddonfield Foundation
Haddonfield School District
Stuart and Beverly Harting
Jami Nicole Harting
Zack and Kathy Harting
Chris Leise
Joe McElroy
Collette Oswald
Republic Bank
P.J. Ward and Sons
WMSH – Michael Willmann
Paul and Paula Szkotak and their three daughters Alexis, Angelina and Arabella