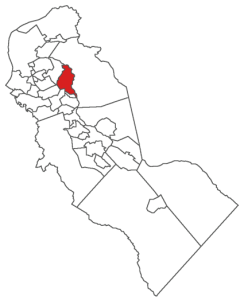 Located in Southern New Jersey just 13 miles and 22 minutes from Center City, Philadelphia, the modestly-sized (Area: 2.89 square miles; Pop: 11,593; HH: 4,463; Zip Code: 08033) and historically significant Borough of Haddonfield, NJ is adding to its already significant appeal to visitors by hosting a walkable showcase for contemporary outdoor art.
Haddonfield was founded by Elizabeth Haddon (1680–1762), whose Quaker father, John Haddon, bought a 500 acre tract of land in the English colony of West Jersey to escape religious persecution. Elizabeth set sail alone from Southwark, England to the New World in 1701. Shortly after her arrival, she made a marriage proposal to John Estaugh, a Quaker minister, and they were married in 1702. The town was named for John Haddon, though he never came to the United States.
The Indian King Tavern, built in 1750, played a significant role in the American Revolution. During that war, the New Jersey legislature—avoiding British forces—met there, and in 1777, declared New Jersey to be an independent state. Today the tavern is a state historical site and museum.
Haddonfield is also a historically significant paleontology site. In 1838, William Estaugh Hopkins uncovered large bones in a marl pit in which he was digging. Hopkins displayed the bones at his home, Birdwood and these bones sparked the interest of a visitor, William Foulke. In 1858, Foulke dug from the marl pit the first full skeleton of a dinosaur found in North America, Hadrosaurus foulkii. The skeleton was assembled in 1868 and is displayed at the Philadelphia Academy of Natural Sciences.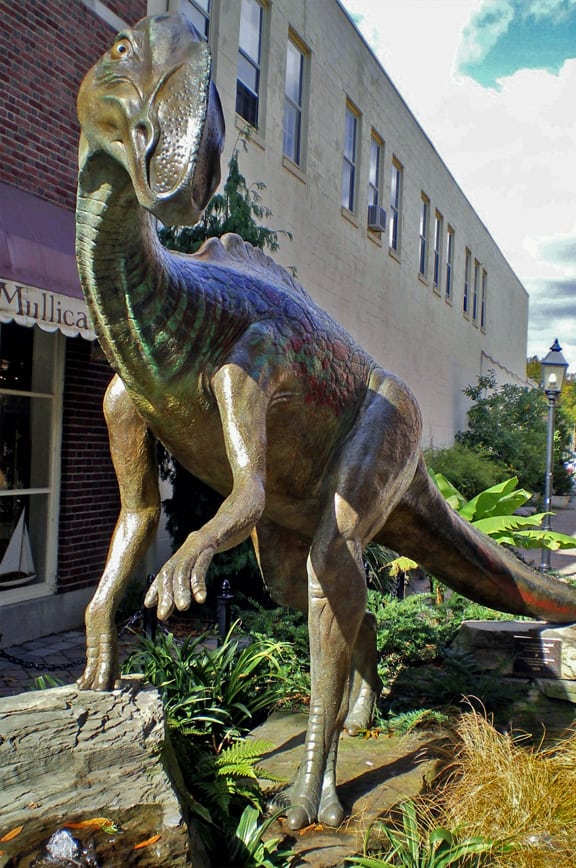 "Haddy" statue by John Giannotti
An 8-foot tall, 18-foot long bronze replica of "Haddy" stands in the center of town. Created by sculptor John Giannotti and commissioned by the town, the dinosaur seems poised to menace sidewalk shoppers, but locals know that duck-billed Haddy was a harmless herbivore. (The Hadrosaurus is the state fossil of New Jersey.)
A plaque and stone marker commemorate the original discovery site in nearby Hadrosaurus Park, east of Grove Street at the end of Maple Avenue. The park is adjacent to the ravine where the bones were discovered buried in clay-like marl deposits, along a small creek known as Hadrosaurus Run. The site was designated a National Historic Landmark in October 1995.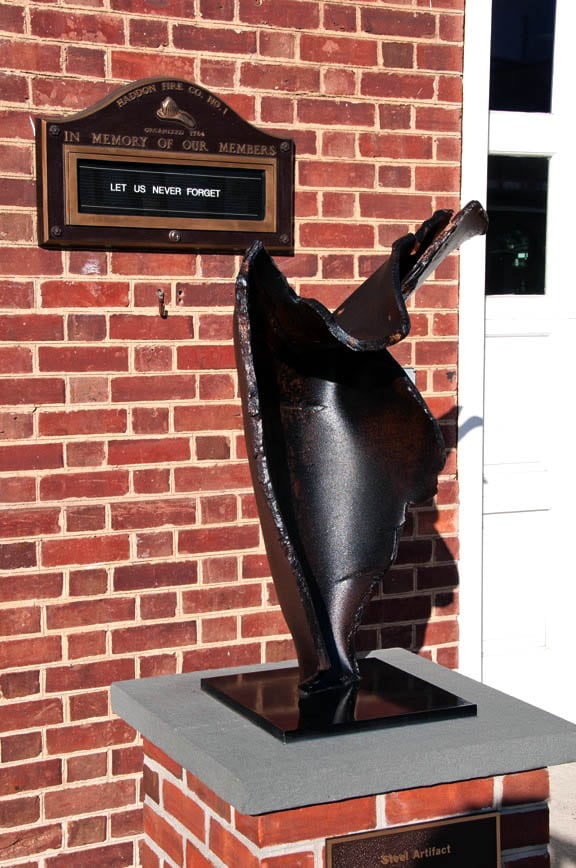 Ground Zero Steel
A section of structural steel recovered at Ground Zero from the site of the World Trade Center's twin towers in NYC and now on permanent display at the Home of the Haddonfield Volunteer Fire Company on North Haddon Avenue.